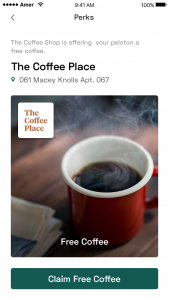 RuedaCC admin website has the ability to set up "perks" for the riders. The perks can be as simple as free coffee (very valuable during a 40mile ride!) or discounts on more expensive pieces of equipment.
Geolocation and Perks go hand in hand at RuedaCC. We can direct rider traffic to claim the perks.
Perks can be assigned according to the level of engagement that a user has: his/her reputation score within the community of riders. The score measures rider interactions with other riders.